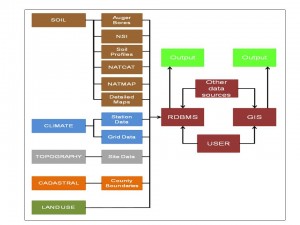 Cranfield University is fortunate in having the responsibility for operating one of the largest land information systems of its kind in europe. The Land Information System 'LandIS' is recognised by the UK Government as the definitive source of national soils information. Its origins reach back as far as the 1930s, when the first systematic collection of soil information in both England and Wales was commenced with the data being gathered requiring storage and codifying.
LandIS enables national soil information to be used by a broad range of users to guide better management, protection and use of our environmental resources. The information LandIS contains forms a valuable base from which to develop interpretive GIS models in support of all land use sectors. Applications include land management, crop suitability, pollution transport, pesticide leaching, nitrate sensitivity, land use policy, soil quality and protection, erosion, contamination, land degradation, waste disposal and climate change impact. LandIS information is used by Crown users and their contractors, researchers and consultants. Access to the data is strongly encouraged from students and academics, and a number of arrangements are in place to provide free or preferential access to the data.
Significant developments in recent years have enabled the effective use of appropriate soil data by non-specialists in a variety of forms. These include the popular Soilscapes Viewer, which has become an established, well-tested resource, used by both the general public, as well as many levels of government as a means of accessing simplified soils data for given areas. The Soil Site Reporter offers, in parallel, more detailed information reports on the soils surrounding a particular site including interpretations for vulnerability to subsidence, flooding, pesticide leaching and runoff, texture, hydrological properties and chemical elements in topsoil. The Soils Guide provides interactive details of the soil types of England and Wales. Access also remains to the core thematic datasets for direct integration with other user's modelling tools and data holdings.